NORWAY'S GOT TALENT WINNER ANGELINA JORDAN'S DEBUT EP 'MY CHRISTMAS' OUT NOW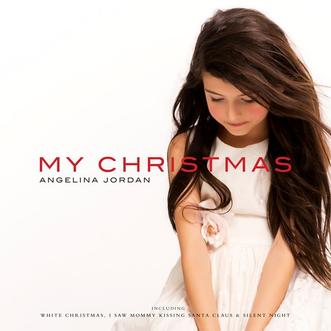 LOS ANGELES – NOVEMBER 20, 2015 – Today, 9-year-old Norway's Got Talent winner, Angelina Jordan released her debut EP 'My Christmas' on iTunes. The EP features three holiday classics re-imagined, including "White Christmas," "I Saw Mommy Kissing Santa Claus" and "Silent Night." 
Jordan's unique and 'seriously soulful' (People Magazine) performances form to create a stunning debut record release from the unstoppable songstress. Recorded in Stockholm, 'My Christmas' caps a marker year for the budding star, who has already been celebrated by the likes of UK tabloid the Daily Mail and Time Magazine, who wrote "(Angelina's) incredible voice will give you chills as she channels Billie Holiday." 
Propelled into the spotlight after winning the 2014 leg of Norway's Got Talent, Jordan's subsequent TV appearances on The View and TV2 have seen fans across the globe accumulate in awe of the Norwegian's vocal abilities. This talented youngster brings her magic to Sinatra classics and Christmas favorites alike. The three-track debut sets the precedent for 2016 to an all-time-high for Angelina Jordan.
About PRMD:
PRMD is an independent label, home to Avicii, Cazzette, and the recently established ICONS imprint.  Diverse in sound and sourcing talent from across the continents, the label approaches 2015 with a manifesto for taking its reign beyond the electronic dance bubble, tapping into the worlds of electronic music, hip-hop, indie rock, and electronic, alongside a wealth of both new and already-established artists. 
#          #          #
ANGELINA JORDAN:
Facebook / Twitter / Official Website / Instagram
PRESS CONTACTS:
Diana Baron / Caroline Stegner  
d.baron media relations inc.
diana@dbaronmedia.com  / caroline@dbaronmedia.com
O: 310 315 5444  / F: 310 315 5474