CARLOS VIVES & SHAKIRA IN "LA BICICLETA"
OFFICIAL WORLDWIDE LAUNCH OF THE SINGLE MAY 27 
VIDEO FILMED THIS LAST WEEK BETWEEN THE CITIES OF SANTA MARTA AND BARRANQUILLA, COLOMBIA, THEIR HOMETOWNS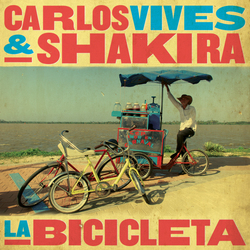 Click HERE for a photo of Carlos Vives and Shakira
SANTA MONICA, CA (May 24, 2016) – Colombian superstars CARLOS VIVES and SHAKIRA grew up only a few miles from one another on the same stretch of coastal Colombia – he in Santa Marta, she in Barranquilla – but they came home this week to film a video for 2X Grammy and 9X Latin Grammy-winning performer/songwriter/activist Carlos Vives' new single "La Bicicleta." The single "La Bicicleta" will be released this Friday, May 27.
"La Bicicleta" is the first musical collaboration from these emblematic Colombian stars.  It kicks off with native flute sounds before moving into vallenato and cumbia with pop flavors and reggaeton beats. The song was written by Carlos Vives and Shakira, and produced by Andrés Castro. Although this is Shakira and Carlos's first recording together, they have appeared on stage together, most memorably in 2009 in support of hostage liberation on Colombia's Independence Day celebration. 
"I always wanted to write, produce and record a song with Shakira so that together we could show our Colombia to the world," says Vives. "She has taken the music of our country to unimaginable heights and finally to be able to work with her is a very important achievement," concluded the samarium artist.
For Shakira:  "This is a song that represents us both very well, its vallenato-reggaeton. And he is the king of vallenato … for me he is one of the most impressive artists that Colombia has given us. I've always admired him, the style of his compositions, his charisma, his commitment to our country, his incomparable artistic talent and I'm very honored to be invited to participate in this project. The experience of working hand in hand with him has been a really enjoyable one, especially on this song which is a tribute to our country in many ways."
The video of "La Bicicleta" was directed by acclaimed filmmaker and photographer Jaume De Laiguana, and will be released in the coming weeks.
# # # 
About Carlos Vives
Singer, songwriter, actor, businessman and USAID ambassador, Carlos Vives is one of Colombia's most emblematic artists and one of the most important figures of Latin music. With more than 30 million records sold worldwide, he is considered a pioneer of Colombian's pop music. He was the first Colombian artist to win a Grammy, and to date has won 2 Grammys and 9 Latin Grammys. After a long absence from the international music scene, Vives returned three years ago with two critically acclaimed albums. "Corazón profundo" and "Mas + Corazón profundo" have generated five No. 1s on the  Billboard Latin Song chart with hits like "Cuando nos volvamos a encontrar" with Marc Anthony,  "Bailar Contigo", "El Mar De Sus Ojos" y "Volví a Nacer", which became an anthem for Latin America dominating radio charts in Mexico, Venezuela, Chile, Argentina, Ecuador, Peru, Central America and Colombia. The "Mas + Corazón profundo Tour" in Colombia became the most successful tour in the country's history, with more than 200,000 fans filling stadiums in five different concerts. In the second half of 2015 he was part of the Unid2's tour with Marc Anthony where they performed 15 concerts in 46 days, 14 cities, traveled for more than 14 thousand kilometers and played in front of more than 233 thousand people.
For more information on Carlos Vives, visit: www.carlosvives.com 
About Shakira
Over the course of her career, Colombian singer-songwriter and Grammy winner Shakira has sold over 60 million records worldwide and has won numerous awards including two Grammys, eight Latin Grammys, and several World Music Awards, American Music Awards and Billboard Music Awards, to name a few. She is the only artist from South America to have a number one song in the US, and has had four of the 20 top-selling hits of the last decade. At the age of 18, she founded the Pies Descalzos (Barefoot) Foundation which currently provides education and nutrition toover six thousand impoverished children in Colombia and is expanding its work to other countries, including newly launched projects in Haiti and South Africa. In October 2011, Shakira was named a member of President Obama's Advisory Commission on Educational Excellence for Hispanics. Shakira served as coach on the 4th and 6th season of "The Voice," NBC's hit reality vocal competition series that searches for the nation's best voice. Her tenth and most recent studio album "Shakira" was released in 2014, and she is currently working on her next album. 
PRESS CONTACT: 
d.baron media relations, inc.
(310)315-5444
Diana Baron
CARLOS VIVES: