DIMITRI VEGAS & LIKE MIKE KICK OFF 2017 WITH A NEW RESIDENCY AT THE WYNN ON JANUARY 21 @ INTRIGUE & JANUARY 28 @ XS 
KID INK REMIXES DIMITRI VEGAS + LIKE MIKE VS. DIPLO's "HEY BABY" OUT NEXT MONTH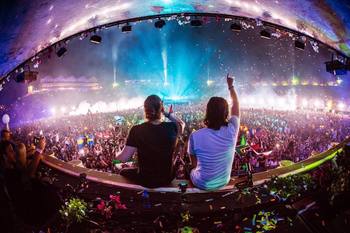 Los Angeles, CA (January 20, 2017) – International superstar DJs Dimitri Vegas & Like Mike are kicking off the new year with new music and more performances after a record breaking 2016. This month, the Belgium brothers have announced that they inked a residency with the acclaimed Wynn Nightlife in Las Vegas, the first dates of which are this Saturday at Intrigue and January 28 at XS.  
Next month, the Belgium brothers plan to release a remix of Dimitri Vegas & Like Mike vs Diplo (feat. Deb's Daughter) by hip-hop artist Kid Ink via Mad Decent. The acclaimed animated video for "Hey Baby" has already amassed over 9.4 million YouTube views, and the track has more than 21 million Spotify streams.
An ambitious international touring schedule is also instore for the heavyweight DJs, with shows through the US, Brazil, Mexico, Europe, and Asia (see below). They continue to play to sold-out arenas alongside performing mainstage sets to jam-packed festival crowds worldwide. Last year, they performed the biggest solo show Germany has ever seen to a record-breaking crowd of 45,000 people, which not only re-wrote the history books, but was also one of the highlights of an incredible year for the Belgian brothers. That success was matched with their end-of-year spectacle. Spread across 4 dates and housed at the Sportpaleis Antwerp, this year's homecoming show saw an incredible 120,000 fans join the brothers for arguably the biggest and most insane party of the year. 
Last year saw Billboard premiering the music video for their single "Stay A While," a Billboard Dance/Club Chart No. 1  with "Higher Place" feat. Ne-Yo and their track "The Hum" becoming the pre-game anthem for the Chicago White Sox. The brothers have amassed over 8 million Facebook likes, over 2.5 million Twitter followers, 2.6 million Instagram fans and in excess of 400 million YouTube views and counting across their videos. The duo has scored 10 No. 1 Beatport hits and multiple iTunes number ones. 
As industry heavyweights that have not only changed the landscape of modern electronic music, but are also assured as two of the most prominent faces of the scene in a generation, Dimitri Vegas & Like Mike continue to smash every record in the book in 2017.
Follow Dimitri Vegas + Like Mike
Facebook: https://www.facebook.com/dimitrivegasandlikemike
Twitter: https://twitter.com/dimitrivegas | https://twitter.com/likemike
Soundcloud: https://soundcloud.com/dimitrivegasandlikemike 
PRESS CONTACT:
d.baron media relations, inc.
(310)315-5444
Diana Baron / Liz Ottiniano
diana@dbaronmedia.com / liz@dbaronmedia.com
###