WATCH HERE: https://youtu.be/w0EF3AxJwLU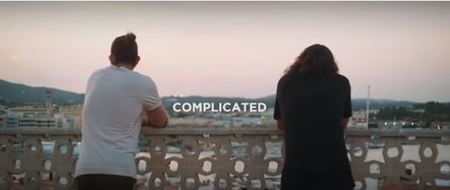 After a live rendition during their headlining Tomorrowland set featuring an appearance from Kiiara – superstar DJs Dimitri Vegas & Like Mike have released the video for their David Guetta assisted track, "Complicated". The Radio 1-supported track has already amassed over 13 million streams on Spotify.
Set in Ibiza, the video depicts the island's idyllic landscapes with enthralling, contemporary dancers. A stark contrast to the place synonymous with Dimitri Vegas & Like Mike's acclaimed Garden Of Madness residency parties where guests this season have already included Guettahimself, Armin Van Buuren and Nicky Romero, and where usually high-octane debauchery and speaker-blowing bangers comes to the fore across the Playa d'en Bossa. Kiiara's bright presence bounces through Ibiza Town as Dimitri Vegas, Like Mike & David Guetta's Midas touch for beat making forms the perfect musical marriage of 2017 on the pop-meets-dance horizon.
'Complicated' collaborators David Guetta and Kiiara both bring their indubitable style and feel to the record. That, added with Dimitri & Mike's impact, has the track segueing between a festival-ready crowd-chanting anthem and an unavoidable drive time radio hit. Directed by Phillip R Lopez, known for his pervious shoots with the likes of Kygo & Selena Gomez, Dimitri Vegas & Like Mike vs David Guetta feat. Kiiara's 'Complicated' is a visual, illustrious merger of talent that accumulates as one of the most hotly-lauded releases of 2017.
Watch 'Complicated' HERE
For more information, check socials:
# # #
PRESS CONTACTS:
Diana Baron / Liz Ottiniano
d.baron media relations inc.
About Sony Music //
Sony Music Entertainment is a global recorded music company with a current roster that includes a broad array of both local artists and international superstars. The company boasts a vast catalogue that comprises some of the most important recordings in history. It is home to premier record labels representing music from every genre, including Arista Nashville, Beach Street Records, Black Butter Records, BPG Music, Bystorm Entertainment, Century Media, Columbia Nashville, Columbia Records, Day 1, Descendant Records, Disruptor Records, Epic Records, Essential Records, Essential Worship, Fo Yo Soul Recordings, House of Iona Records, Insanity Records, Kemosabe Records, Latium Entertainment, Legacy Recordings, Masterworks, Masterworks Broadway, Ministry of Sound Recordings, Monument Records, OKeh, Polo Grounds Music, Portrait, RCA Inspiration, RCA Nashville, RCA Records, Relentless Records, Reunion Records, Sony Classical, Sony Music Latin, Star Time International, Syco Music and Volcano. Sony Music Entertainment is a wholly owned subsidiary of Sony Corporation of America.