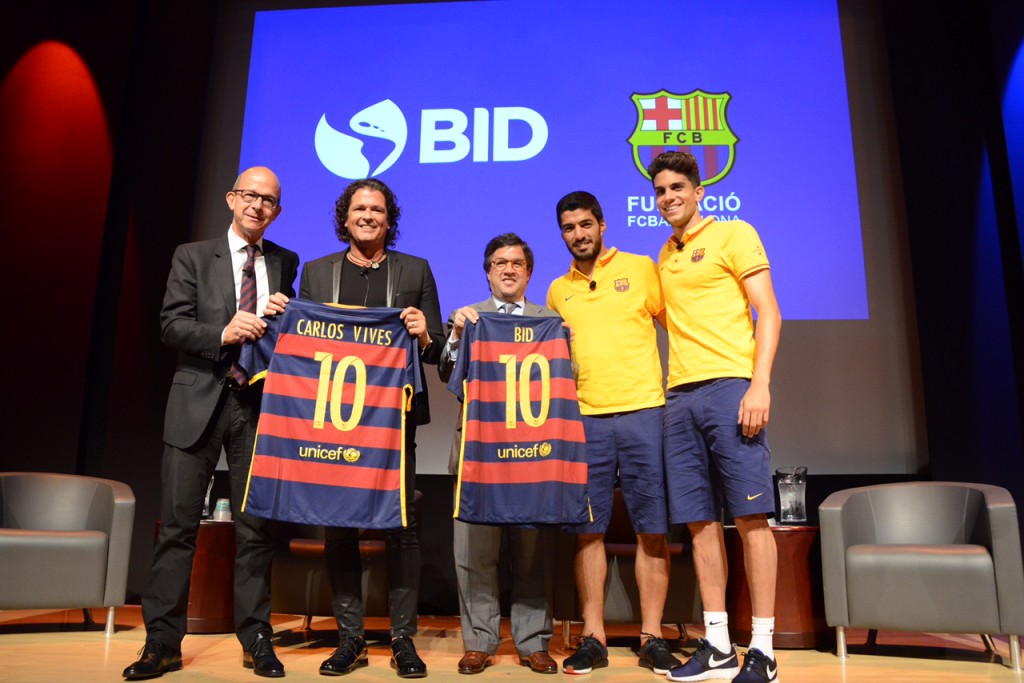 Washington, D.C. July 27th 2015 – In an event held today at the Inter-American Development Bank headquarters, 2 time Grammy-winning and 9 time Latin Grammy winning music star Carlos Vives, Luis Suarez and Marc Bartra from FC Barcelona's starting lines, Football Club Barcelona First Vice President Jordi Cardoner i Casaus, and IDB President Luis Alberto Moreno discussed how sports and culture can be used from a development perspective to improve the lives of children and youth in Latin America and the Caribbean.
"Sports and culture are not just a pastime in Latin American and Caribbean countries: they are also an effective tool for development. The IDB has been using sports to empower children and youth in the region for over a decade," said Luis Alberto Moreno, President of the IDB. "Partners such as Fundació FC Barcelona have been essential in accomplishing this, by providing valuable financing and technical expertise to make our sports for development program a huge success."
At the event, President Moreno moderated a discussion in which FC Barcelona players and Mr. Cardoner i Casaus discussed how sports have played a role in improving their own lives.
"At Football Club Barcelona, we have the capacity to truly support society and the less fortunate," said Mr. Cardoner i Casaus. "FC Barcelona is more than just a soccer team as, in comparison to others, we have a stronger sense of social commitment. Working through partnerships such as this one allows us as a Club to turn this commitment into action while helping those who need it most."
With projects in Argentina, Brazil, and Mexico, the IDB-FC Barcelona partnership has harnessed sports to improve educational and health outcomes, mitigate youth violence, and enhance social inclusion and youth employability. Since 2004, the IDB has expanded sports for development programs to 20 countries with over more than 20 partners.
Emphasizing the equally critical role of culture in empowering communities, Luis Alberto Moreno had an enlightening conversation with Colombian superstar Carlos Vives, discussing the transformational impact that culture and music play in the lives of young people and how it can be used to advance the development agenda. 
"For me, music has always been a tool for personal growth," remarked Vives. "That's why I believe in the importance of utilizing culture and sports for development. I thank the IDB for the opportunity to share my story, to show how music can be a vehicle for social change, and to connect my country with the rest of Latin America and the Caribbean and the world."
The event opened with a panel moderated by CNN Senior Correspondent Patricia Janiot and featuring Mauricio Heredia, General Director of the Rafa Marquez Foundation, and Josep Cortada, General Director of Fundació FC Barcelona.  The Rafa Marquez Foundation and Fundació FC Barcelona collaborate with PepsiCo on a sports for development project in Mexico. 
About Carlos Vives
Singer, songwriter, actor and businessman, Carlos Vives was named the most important artist of 2013 in Latin America. Considered one of the greatest and most influential artists in Latin music, Carlos Vives has  transcended barriers for more than two decades, with over 20 million albums sold, 2 Grammys and 9 Latin Grammys, 29 nominations from the Latin Recording Academy, and multiple gold and platinum albums. He became the first Colombian artist in music history to take home a Grammy and had two #1 singles from his latest album.
Vives is an artist who keeps his country close to his heart, is also a UNICEF ambassador, a USAID Ambassador, and appeared at the White House and in front of Congressional Committees on behalf of USAID. He has also honored with the Legend Award from the Hispanic Heritage Foundation in Washington D.C.
In 2012, he was a judge on La Voz Colombia, and his album MAS + CORAZON debuted at # 1 in sales and has produced four consecutive # 1 singles in Colombia.  "Volví a Nacer", "Como Le Gusta a Tu Cuerpo" y "Bailar Contigo" were # 1 on the Billboard charts, also reaching # 1 in Mexico, Venezuela, Chile, Argentina, Ecuador, Peru and Central America. 
He was the top winner in 2013 at the Latin Grammys and at the Latin Billboard Awards in 2014, he received the Spirit of Hope Award for his social work and dedication to noble causes. In the coming months, in role with USAID, Vives will be searching out new musical talent in the marginalized neighborhoods of Colombia, and mentoring artists and helping them become self-sufficient through the creation of their own record labels. 
More about the Inter-American Development Bank
The Inter-American Development Bank is devoted to improving lives. Established in 1959, the IDB is a leading source of long-term financing for economic, social and institutional development in Latin America and the Caribbean. The IDB also conducts cutting-edge research and provides policy advice, technical assistance and training to public and private sector clients throughout the region. 
More about Fundació FC Barcelona The FC Barcelona Foundation was created in 1994 as the vehicle for FC Barcelona's corporate social responsibility. At present, its projects are mainly based on the following premises: the use of sports as a core instrument; the fostering of education and the positive values of sport; children as the target beneficiaries and the promotion of Catalonia through Barça. Nowadays the Foundation reaches more than 400,000 beneficairies all over the world. More information at: www.fcbarcelona.cat and facebook.com/fundaciofcb 
More information
Sports for development at the IDB:
http://www.iadb.org/en/topics/sports/sports,1648.html 
# # #
 PRESS CONTACTS 
Diana Baron, 310-315-5444, diana@dbaronmedia.com
Sebastian Cubillos, 310-315-5444, sebastian@dbaronmedia.com