Kinky's new video for "Acento en la U" feat Mariel Mariel
OUT TODAY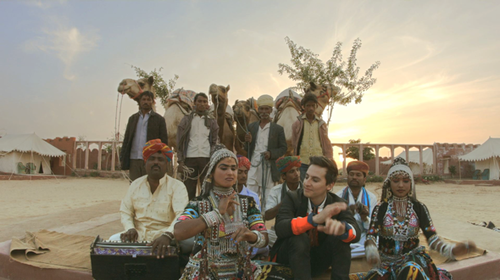 After releasing two hits from their latest album "Nada Vale Mas Que Tú", Kinky surprised us with the video of their third single, "Acento en la u", featuring Mariel Mariel, which premiered on MTV on October 4.
Recorded in the streets of India, the video was produced by Marcela Recio for Artcore Films and directed by Rika Dávila.
Over 12 days the team toured the country and chose sites like Udaipur, New Delhi and Taj Mahal as locations for this video.
"The Prince of Rajasthan opened the doors of his palace where we were able to film privately in some of the rooms with amazing history," says Gil Cerezo, lead singer of the band.
In the video, you can see the luxurious parts of India, but also Delhi's old market and even the atmosphere in the trucks that cross the streets, because it was them who gave a "ride" to the production team to get into the small communities living in the desert.
"Nada Vale Más Que Tu" is, undoubtedly, one of the most important records in the career of this regiomontana band. With more than 17 years of experience, Kinky has performed all over the world, including Coachella, KCRW Fest, Bumbershoot, Austin City Limits, and 6 times in the prestigious Festival Vive Latino, among others. They have also appeared on David Letterman, Jimmy Kimmel, Craig Ferguson and the MTV VMAs, and toured with The Flaming Lips, Cake, Modest Mouse, De La Soul, Shakira, Los Lonely Boys, Beck, Norah Jones and Vasco Rossi.
KINKY:
Facebook / Twitter / Instagram / http://kinkymusic.com/
###