GRAMMY MUSEUM® AND BULOVA PRESENT DEEP HEART: ROOTS, ROCK & THE MUSIC OF CARLOS VIVES
EXHIBIT OPENS WITH AN INTIMATE PERFORMANCE & CONVERSATION WITH THE ICONIC GRAMMY®- AND LATIN GRAMMY-WINNING COLOMBIAN ARTIST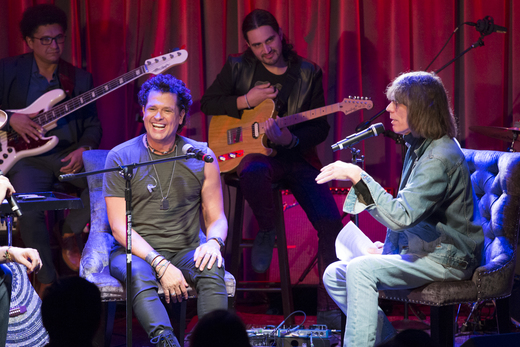 VIVES PERFORMED WITH TWO BANDS:
FOLKLORIC AND ROCK TO ILLUSTRATE HIS FUSION OF HIS TWO CULTURES
LOS ANGELES, CAlif. (OCT. 26, 2017) — The GRAMMY Museum® L.A. LIVE and Bulova kicked off Latin Grammy week last night at the opening of DEEP HEART: Roots, Rock & The Music Of Carlos Vives, a new exhibit at the Grammy Museum. A sold out, "An Evening With" public program was hosted at the Clive Davis Theater at the museum and featured an intimate performance from Carlos and his band and Q&A hosted by David Fricke, senior writer at Rolling Stone and the host of "The Writer's Block" on SiriusXM Radio.
During the 90 minute program, the two discussed the origins of the many rhythms pervasive in Carlos' music and his mission to keep those historical sounds alive in contemporary music. They discussed how the geographic areas of Colombia, most especially the Rio Grande del Magdelena, like the Mississippi, were the pathways through which regional and international sounds were transported from one part of the country and were combined and expressed in another; for instance jazz and cumbia. Carlos had 8 musicians on stage and the audiences went wild as they performed music to illustrate the conversation playing songs like 1998 Pa Mayte, 2004's El Rock de Mi Pueblo and others.
The new, one-of-a-kind exhibit is open until Fall 2018 and offers visitors an in-depth look at the iconic career of the two-time GRAMMY®-winning and 11-time Latin GRAMMY-winning Colombian singer/songwriter.
On display through November 2018, the exhibit will feature, among other items:
The outfit Vives wore for his first big telenovela appearance on "Escalona"
Vives' first GRAMMY Award: Best Traditional Latin Album for 2001's Dejame Entrar
Vives' 2005 Latin GRAMMY Award for Best Contemporary Tropical Album for El Rock De Mi Pueblo
Handwritten lyrics and outfits used in the music video for his award-winning collaboration with Shakira, "La Bicicleta"
Handwritten notes and lyrics used during the making of his 2013 Latin GRAMMY-winning album, CorazónProfundo
"It's an absolute honor to be able to pay tribute to one of Latin music's most influential artists, and the music of Colombia, through this new exhibit," said Nwaka Onwusa, GRAMMY Museum Curator. "Carlos Vives helped shape the new Colombian and Latin American sound. We are thrilled to share his incredible story with our visitors."
"Carlos Vives has had an enormous impact on music both in Colombia and here in the United States," said Scott Goldman, GRAMMY Museum Executive Director. "While his work as a singer, composer, actor, and entrepreneur has touched millions, his commitment to music education as part of his Rio Grande music school continues to inspire future generations of music creators. We hope this exhibit will be just as inspiring."
"Bulova is proud to work alongside the GRAMMY Museum to promote such an inspirational and educational exhibit featuring Carlos Vives, one of the most influential Latin artists of our time," said Robert Christiano, EVP Marketing at Bulova.
"I feel very honored to be able to share the story of my musical history and its evolution throughout my 25-year artistic career," said Vives. "Thank you to the GRAMMY Museum for this opportunity."
About Carlos Vives
Born in Santa Marta, the third largest city of Colombia's Caribbean region, singer, composer, actor, entrepreneur and Unicef Ambassador and USAID Inclusion Ambassador Carlos Vives is one of the most important artists in Latin America, and one of the biggest and most influential artists in music. In his 25-year career, Vives has created a new form of music combining rock with the Vallenato and ancient sounds of Colombia, and in the process sold 20 million albums, earned 11 Latin GRAMMY Awards, and two GRAMMY Awards. His most recent Latin GRAMMYs came in 2016 for Record Of The Year and Song Of The Year for "La Bicicleta," a collaboration with GRAMMY and Latin GRAMMY winner Shakira. In addition, in 2014 Vives received Billboard's Spirit of Hope Award for his humanitarian work, and the BMI President's Award for his career achievements. In 2015, the city of Los Angeles declared Oct. 23 to be "Carlos Vives Day," and in 2017 Vives received an Honorary Master's Degree from the prestigious Berklee School of Music.
Vives has strong ties to the indigenous peoples of the Sierra Nevada de Santa Marta. He has made them central characters in his lyrics and music videos, has sung in their ancient language and has invited them to participate in his concerts. He has also spoken frequently about the great influence that the Afro-descendant culture has had on his music. He has worked to preserve, protect and promote these special and endangered communities and the environment in which they live.
Set for release on Nov. 10, his 18-track new album Vives features the worldwide smash hit "La Bicicleta" and his latest hit "Robarte Un Beso." The album also includes a children's song, "Monsieur Bigoté," featuring the voices of Vives' children, Elena and Pedro Vives, and the Rio Grande music school chorus. The album, which explores themes of love, peace, domestic abuse, and other important issues, also features special guests Thalía and up-and-coming artist Cynthia Montaño. The album name means "to live." With the release of this album, Vives wanted to share that simple yet strong message to encourage people to live their lives to the fullest.
About Bulova
Founded by Joseph Bulova in 1875, Bulova remains an iconic brand at the forefront of today's timepiece industry — forever pursuing a profound history of firsts.
Headquartered in New York City, with eight international offices and distribution in 65 markets, Bulova's distinguished portfolio includes Bulova, Caravelle, Wittnauer watches, as well as licensed Harley-Davidson Timepieces by Bulova watches, Frank Lloyd Wright Collection watches and clocks, and Bulova Clocks. Today, Bulova is driven by the same principles of craftsmanship, innovation and technology that inspired their founder more than 140 years ago. Committed to advancing the art of watchmaking with extraordinary design, exclusive high-performance technology and enduring quality that upholds a tradition of excellence and meets the needs of today's global consumer. For more information, visit
www.bulova.com
.
About the Grammy Museum
Established in 2008 as a partnership between the Recording Academy and AEG, the GRAMMY Museum is a non-profit organization dedicated to cultivating a greater understanding of the history and significance of music. Paying tribute to our collective musical heritage, the Museum explores and celebrates all aspects of the art form—from the technology of the recording process to the legends who've made lasting marks on our cultural identity. In 2017, the Museum integrated with its sister organization, the GRAMMY Foundation®, to broaden the reach of its music education and preservation initiatives. As a unified organization, today, the GRAMMY Museum fulfills its mission of making music a valued and indelible part of our society through exhibits, education, grants, and public programming.
# # #
Contacts
Crystal Larsen
Communications Manager
T. 213.763.2133
Diana Baron
For Carlos Vives
###
*Spanish Version*
GRAMMY MUSEUM® Y BULOVA PRESENTAN
DEEP HEART: ROOTS, ROCK & THE MUSIC OF CARLOS VIVES
LA EXHIBICIÓN SE INAUGURÓ CON UNA PRESENTACIÓN Y ENTREVISTA CON CARLOS VIVES EN EL CLIVE DAVIS THEATER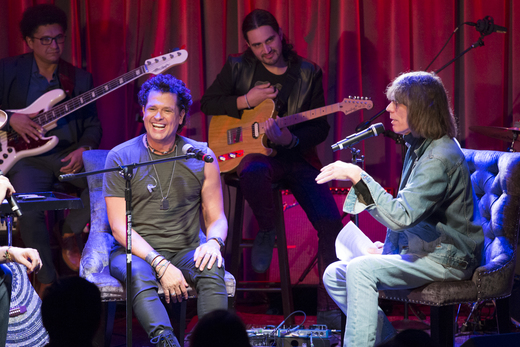 VIVES TOCÓ EN VIVO CON DOS BANDAS, UNA DE FOLCLOR COLOMBIANO Y OTRA DE ROCK PARA ILUSTRAR LA FUSIÓN DE LAS DOS CULTURAS
Los Angeles, CA (14 de noviembre de 2017) — El GRAMMY Museum® L.A. LIVE y Bulova presentaron en la noche de ayer DEEP HEART: Roots, Rock & The Music Of Carlos Vives, una nueva exhibición en el Grammy Museum. El programa "An Evening With", que fue un éxito total con todos los boletos agotados, tuvo lugar en el Clive Davis Theater, donde Carlos hizo una actuación íntima y un Q&A presentado por David Fricke, escritor de Rolling Stone y presentador del programa "The Writer's Block" en SiriusXM Radio. El nuevo álbum de Carlos Vives, "VIVES", salió a la venta el pasado viernes y está disponible en todas las plataformas musicales.
En el programa de 90 minutos de duración, Carlos y David estuvieron hablando de los orígenes de los varios ritmos dominantes en la música de Carlos y su misión para mantener esos sonidos históricos vivos en la música contemporánea. Comentaron cómo las diferentes áreas geográficas de Colombia, especialmente el Río Grande de la Magdalena y el Mississippi, eran las vías por las cuales los sonidos regionales e internacionales eran transportados de una parte a otra del país, y esto hizo que se combinaran y expresaran en otros ritmos; por ejemplo el jazz y la cumbia. Carlos contó con 8 músicos en el escenario y el público saltó de sus asientos mientras tocaban música para ilustrar la conversación, con canciones como Pa Mayte (1998), El Rock de Mi Pueblo (2004) y más.
La exhibición estará abierta hasta el otoño de 2018 y ofrece a sus visitantes un paseo en profundidad por la icónica carrera del colombiano, una de las más importantes figuras de la música en español.
En exhibición hasta noviembre de 2018, la exposición contará con:
El vestuario que Carlos Vives llevó en su primera aparición en una gran telenovela, "Escalona"
El primer GRAMMY que Vives ganó en 2001 como Best Traditional Latin Album, gracias a su disco Déjame Entrar
El Latin GRAMMY que ganó en 2005 como Mejor Álbum Tropical Contemporáneo gracias a El Rock De Mi Pueblo
Decoración pintada a mano que se usó en el video musical de su hit internacional "La Bicicleta", en colaboración con Shakira
Notas escritas a mano y letras de canciones que se usaron en la composición de su álbum Corazón Profundo, ganador del Latin GRAMMY en 2013
"Es un increíble honor poder rendir tributo a través de esta nueva exhibición a uno de los artistas más influyentes de la música latina y de la música colombiana", comentó Nwaka Onwusa, comisaria de exposiciones del GRAMMY Museum. "Carlos Vives ha sido un colaborador fundamental a la hora de formar el nuevo sonido colombiano y de Latinoamérica. Estamos entusiasmados de compartir esta increíble historia con nuestro público".
"Carlos Vives ha tenido una gran influencia en la música tanto en Colombia como aquí en Estados Unidos", dijo Scott Goldman, Directora Ejecutiva del GRAMMY Museum. "Mientras su trabajo como cantante, compositor, actor y empresario ha tocado a millones de personas, su compromiso en la educación a través de su escuela de música Rio Grande continúa inspirando a futuras generaciones de artistas. Esperamos que esta exposición sirva también de inspiración."
"Bulova está entusiasmado de trabajar junto con el GRAMMY Museum para promover una exhibición tan inspiradora y educativa de la mano de Carlos Vives, uno de los artistas latinos más influyentes de nuestro tiempo", comenta Robert Christiano, Vicepresidente Ejecutivo de Marketing en Bulova.
"Me siento muy honrado de poder contar mi historia musical y su evolución en estos 25 años de carrera artística. Gracias a la academia y a su museo por la oportunidad".
SOBRE CARLOS VIVES
Nacido en la ciudad caribeña de Santa Marta, la tercera más grande de la región caribeña de Colombia, el cantante, compositor, actor, empresario y embajador de USAID, Carlos Vives, es uno de los artistas más importantes de Latinoamérica y uno de los más influyentes en el panorama musical mundial. En sus 35 años de carrera, Vives ha creado un nuevo estilo de música al combinar rock con vallenato y también con los sonidos clásicos de Colombia, y en el proceso ha vendido 20 millones de álbumes, ha Ganado 11 Latin GRAMMYs y dos premios GRAMMY. Sus más recientes Latin GRAMMYs llegaron en 2016 (Canción del Año y Grabación del Año) gracias a su tema "La Bicicleta", en colaboración con la ganadora de GRAMMY y Latin GRAMMY Shakira. Además, en 2014 Vives recibió el premio Billboard "Spirit of Hope Award" por su trabajo humanitario, y también el BMI President's Award en honor a su trayectoria profesional. En 2015, la ciudad de Los Angeles declaró el 23 de octubre como el "Día de Carlos Vives", y en 2017 recibió el Honorary Master's Degree de parte de la prestigiosa academia Berklee School of Music.
Vives está fuertemente vinculado a la población indígena de Sierra Nevada de Santa Marta. Ha convertido a sus gentes en personajes principales de sus letras y vídeos musicales, ha cantado en su lengua tradicional y los ha invitado a participar en sus conciertos. Vives también ha expresado frecuentemente la gran influencia que la cultura de descendencia Afro ha tenido en su música. Ha trabajado para proteger, preservar y promover estas comunidades, que se encuentran en peligro, así como el medio ambiente en el que viven.
El nuevo álbum de Carlos, "VIVES", será lanzado el 10 de noviembre y cuenta con 18 canciones y un bonus track, además de incluir el hit internacional "La Bicicleta", su último single "Robarte Un Beso" y la canción infantil "Monsieur Bigoté", que cuenta con las voces de sus hijos Elena y Pedro Vives y el coro de la escuela musical Rio Grande. El álbum, que explora temas como el amor, la paz, la violencia doméstica y otros asuntos de interés, cuenta con las colaboraciones de Thalia y la nueva artista Cynthia Montaño. El álbum lleva por título VIVES en referencia a su apellido y por lo que significa vivir. Carlos quiere transmitir este simple pero intenso mensaje para que la gente viva su vida al máximo, simplemente #VIVES.
SOBRE BULOVA
Fundada en 1875 por Joseph Bulova, Bulova se mantiene como una marca icónica en el la industria relojera – siempre aspirando a ser los primeros en hacer historia.
Con oficinas principales en Nueva York, además de otras ocho oficinas internacionales y distribución en 65 mercados, su portfolio incluye Bulova, Caravelle, los relojes Wittnauer, así como la licencia para los relojes Harley-Davidson Timepieces by Bulova, relojes Frank Lloyd Wright Collection, y Bulova Clocks. En la actualidad, Bulova se guía por los mismos principios de artesanía, innovación y tecnología que inspiraron a su fundador hace más de 140 años. La marca está comprometida con el avance del arte de la relojería mediante un diseño extraordinario, tecnología exclusiva de alto rendimiento y calidad duradera que mantiene una tradición de excelencia y satisface las necesidades del consumidor global actual. Para obtener más información, visite
www.bulova.com
.
SOBRE EL GRAMMY MUSEUM
Establecido en 2008 como una colaboración entre la Recording Academy y AEG, el GRAMMY Museum es una organización sin ánimo de lucro dedicada a cultivar un mayor entendimiento de la historia y la importancia de la música. Haciendo tributo a la herencia colectiva musical, el museo explora y celebra todos los aspectos artísticos que existen-desde la tecnología utilizada en el proceso de grabación, a las leyendas que han impactado nuestra identidad cultural. En 2017, el museo se integró con su organización hermana GRAMMY Foundation® para ampliar el alcance de su educación musical y preservar iniciativas. Como organización unificada, hoy en día el GRAMMY Museum cumple su misión de convertir la música en una parte valiosa de nuestra sociedad a través de exhibiciones, educación, subvenciones y programación pública.
# # #
Contactos
Crystal Larsen
Communications Manager
T. 213.763.2133
Diana Baron
Para Carlos Vives