JARIPEO SIN FRONTERAS KICKS OFF JANUARY 27 & 28 IN L.A. AND SAN DIEGO
TICKETS GO ON SALE FOR 14 ADDITIONAL MARKETS ON THURSDAY, JANUARY 18 @ 10AM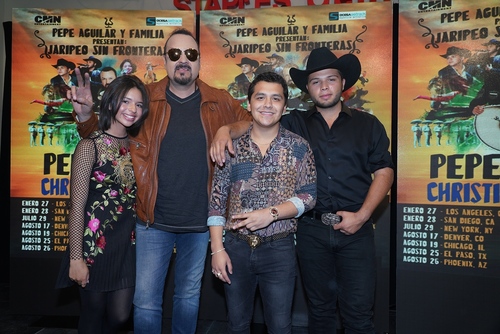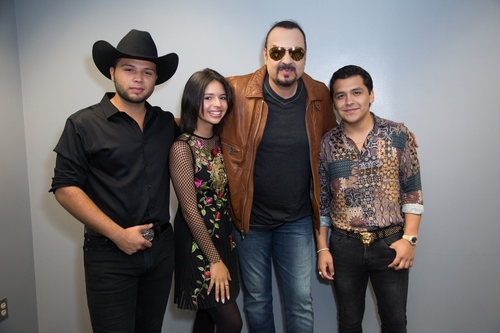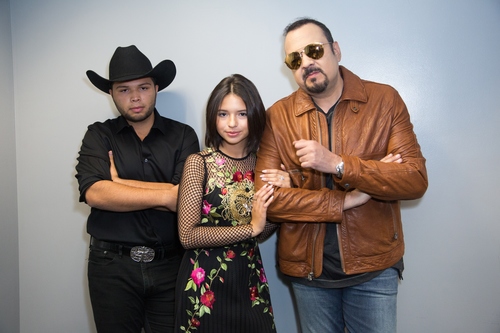 LOS ANGELES, Calif., Jan., 10, 2018 – Nine Grammy-winning Pepe Aguilar & his family along with special guest Christian Nodal will launch JARIPEO SIN FRONTERAS, a revival of the legendary Aguilar family's touring tradition of jaripeo, a music and equestrian extravaganza combined with rodeo, it was announced today by the artists during a morning press conference at Staples Center. Produced by CMN Events and OCESA-Seitrack, the tour kicks off January 27 at the Los Angeles Staples Center and January 28 at San Diego's Viejas Arena and continues through 14 additional major markets including New York, Chicago, Houston and Dallas (see itinerary below). Tickets for the additional 14 shows go on presale January 17 @ 10:00am and public on sale Thursday, January 18 @ 10:00am.
JARIPEO SIN FRONTERAS is a mega show featuring Pepe Aguilar's performance on horseback for the first time in two decades, as well as Mariachi star Christian Nodal. Following in his father's footsteps, Pepe will take the third generation of Aguilars on the road: his children, two time Latin Grammy nominee Leonardo Aguilar and the beautiful and charismatic Angela Aguilar. Highly trained horses; champion bulls from the American rodeo; charros and cowboys in fierce competition; American clowns risking their lives with bulls, the elegance of the Charro tradition with Tomás Garcilazo, animal comedy with "Whiplash" the cowboy monkey, all this framed by the music of Mariachi "El Zacatecano" and Banda Azul Tequila and today's production technologies create a new concept that will be identified as the Aguilar family of 2018. "This is jaripeo 2.0," said Pepe Aguilar.
LINK TO PHOTOS:
LINK TO VIDEO:
Aguilar made his performance debut at Madison Square Garden at the age of 3 performing on horseback with his father Antonio Aguilar who, with his family, toured the entire American continent with the Espectáculo Ecuestre Internacional and Rodeo Show. It was the first equestrian show in the history of Latin show business, built around various life stock disciplines with horses, bulls, buffalos, monkey's, and more. "It was like a Ringling Brothers Mexican Style. He even had folkloric ballet." It was one of the most successful shows of the time. Don Antonio, Señora Flor Silvestre (both parents were acclaimed actors) along with little Toño and Pepe Aguilar changed the direction of Mexican music forever and became a standard by which the genre was judged.
"My father's career was a great inspiration to me," says Pepe. "Antonio Aguilar risked everything to dignify Mexican music in countries that were not his."
Pepe Aguilar went on to become one of the most important performers/producers/songwriters in Latin music, selling more than 12 million albums, earning 15 #1 records and numerous awards including four Grammys and four Latin Grammys and a Star on the Hollywood Walk of Fame, next to his father. He has collaborated with artists such as will.i.am and Julieta Venegas. Aguilar picked this moment to reclaim the traditions of jaripeo for himself, his family and his fans.
As a 1 time National and 5-time state charro champion, Aguilar has had this in his heart forever. "My family and I have that same feeling of pride around our traditions that my father had. It's mine and it comes out of conviction and a place of being completely convinced of what I'm doing. And I have rights to the tradition. This is what I was born doing, and what I want to take to the next level," he said.
The young star Christian Nodal has managed to win a large audience with his fusion of mariachi and norteño. His international hit "Adiós Amor", which won "Favorite Song" at the Latin American Music Awards, reached No. 1 on Billboard's "Regional Mexican Songs" airplay chart as did his other hit "Probablemente", featuring David Bisbal.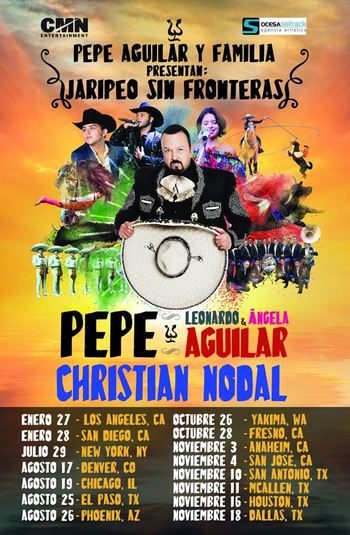 ---
*Spanish Version*
PEPE AGUILAR Y FAMILIA REVIVEN LA HISTÓRICA TRADICIÓN DEL JARIPEO,
ACOMPAÑADOS DE CHRISTIAN NODAL
JARIPEO SIN FRONTERAS COMIENZA EL 27 Y 28 DE ENERO
EN LOS ANGELES Y SAN DIEGO
LOS BOLETOS ESTARÁN A LA VENTA PARA LAS DEMÁS 14 CIUDADES
EL 18 DE ENERO A LAS 10AM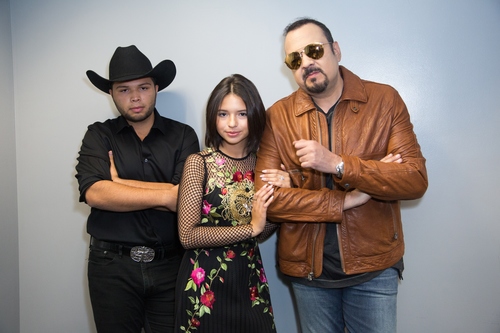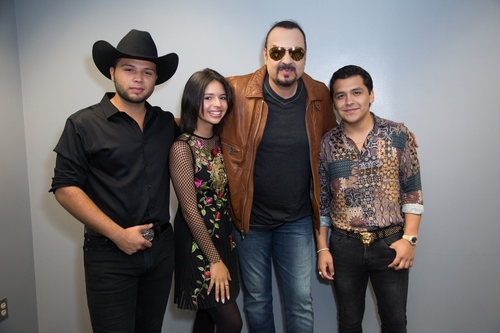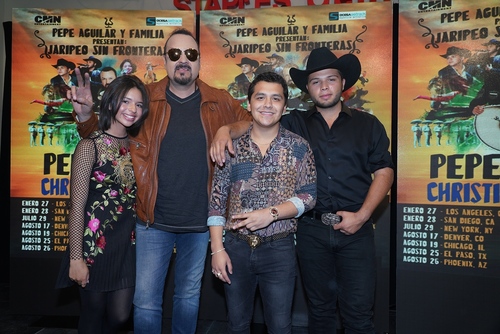 LOS ANGELES (10 de enero 2018) – Pepe Aguilar y su familia, junto con Christian Nodal, lanzarán JARIPEO SIN FRONTERAS, una nueva versión del tradicional jaripeo de la familia Aguilar, un espectáculo musical y ecuestre que fue anunciado hoy durante una conferencia de prensa en el Staples Center. Producido por CMN Events y OCESA-Seitrack, la gira comienza el 27 de enero en el Staples Center de Los Angeles y el 28 de enero en el Viejas Arena de San Diego, y continúa en 14 grandes ciudades incluyendo Nueva York, Chicago, Houston y Dallas (ver itinerario abajo). Los boletos para los 14 conciertos estarán en pre-venta a partir del 17 de enero a las 10:00 a.m. y disponibles al público en general el jueves 18 de enero a las 10:00 a.m.
JARIPEO SIN FRONTERAS con la presentación de Pepe Aguilar a caballo por primera vez en más de dos décadas, con la participación de la estrella de música regional Mexicana Christian Nodal como artista invitado. Siguiendo los pasos de su padre, Pepe llevará a la tercera generación de los Aguilar de gira: sus hijos: Leonardo Aguilar, nominado dos veces al Grammy Latino, y la bella y carismática Ángela Aguilar, así como caballos educados a la alta escuela, vaqueros Americanos, payasos recortadores de toros, la elegancia de la tradición charra con Tomás Garcilazo y la comedia animal con el mono cowboy "Whiplash". Todo esto enmarcado por la música del Mariachi "El Zacatecano" y la Banda "Azul Tequila". Junto con la tecnología de producción actual creando un nuevo concepto que se identificará como el de la familia Aguilar 2018. "Esto es jaripeo 2.0", dijo Pepe Aguilar.
Aguilar hizo su debut musical en el Madison Square Garden a los 3 años, montado a caballo con su padre Antonio Aguilar, quien recorrió todo el continente americano junto con su familia en el Espectáculo Internacional Ecuestre y Rodeo Show. El primer espectáculo ecuestre en la historia de la industria musical latina, construido en torno a caballos, toros, búfalos, etc. "Era como los Ringling Brothers pero a la Mexicana. Incluso tuvo un ballet folklórico". Uno de los espectáculos más exitosos de la época. Don Antonio Aguilar, Flor Silvestre (ambos iconos del espéctaculo) junto con los pequeños Toño y Pepe Aguilar cambiaron el rumbo de la música Mexicana para siempre y se convirtieron en un estándar para juzgar al género.
"La carrera de mi padre ha sido una gran fuente de inspiración para mi", afirma Pepe. "Antonio Aguilar lo arriesgó todo para dignificar la música mexicana en otros países que no eran el suyo".
Pepe Aguilar es, hoy por hoy, uno de los intérpretes/productores/compositores más importantes de la música latina, vendiendo más de 12 millones de álbumes, logrando 15 discos en número 1 y varios premios, entre ellos cinco Grammys, cuatro Latin Grammys y una estrella en el Hollywood Walk of Fame. Ha colaborado con artistas como will.i.am y Julieta Venegas. Aguilar escogió este momento para reclamar las tradiciones de jaripeo para él, su familia y sus seguidores.
Como campeón nacional de charrería, además de haber sido 5 veces campeón estatal, Aguilar siempre ha tenido esto en su corazón. "Mi familia y yo tenemos el mismo sentimiento de orgullo por las tradiciones que tenía mi padre. Me pertenece, y surge de la convicción y de estar completamente seguro de lo que hago. Tengo derecho a esta tradición. Nací haciendo esto, y quiero llevarlo al siguiente nivel", dijo Pepe.
La joven estrella Christian Nodal ha logrado conquistar a un público muy amplio con una fusión entre mariachi y norteño con la que ha traspasado fronteras gracias en parte a su éxito "Adiós Amor", canción que recibió el premio a Canción Favorita en los Latin American Music Awards. Esta canción alcanzó el número uno en la lista de Billboard de Canciones Regional Mexicanas, al igual que "Probablemente", canción que cuenta con la colaboración de David Bisbal.