TECH N9NE'S STRANGE MUSIC VENTURES INTO POP WITH ABOVE WAVES SINGLE "SIMPLE THINGS," OUT TODAY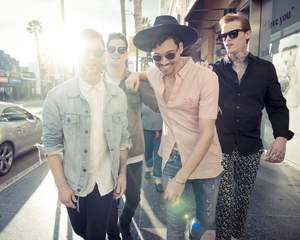 Kansas City, MO (March 3, 2017) – Strange Music, the world's largest independent rap label, has released its first pop/alt single from Chicago/Kansas City pop/alternative band ABOVE WAVES. "Simple Things" is a contagious mid-tempo pop gem, with infectious lyrics sung by lead vocalist Ryan Bradley, driven by the underlying rhythms of drummer Lance Bennet and bassist Bryan Walker, topped with Colin Greshock's lead guitar. "Simple Things" is on the band's upcoming album Fugitives, which is slated for a September 2017 release.   
Watch the music video for "Simple Things" HERE
"Simple Things:" iTUNES / GOOGLE PLAY / SPOTIFY 
The members of ABOVE WAVES had been playing in various bands, separately and together, in Chicago and Kansas City, coming together as ABOVE WAVES three years ago. They have been recording in Nashville, L.A., and at Strange Music's state-of-the-art studios at Strangeland headquarters in Kansas City.
"We wrote 'Simple Things' with Brian Howes and Jason "JVP" Van Poederooyen at Brian's place in Studio City," says Bradley. "After throwing some melodies and lyric ideas around we settled on the main hook and built the song out from there. It all came together really quickly and naturally. It was one of those "easy" ones. We had a great time working with those guys."
Bennet added, "I think Ryan and I got inspired by seeing all the fast cars with pretty girls in them, and our wheels started turning.  The song is about getting back to the basics of life and being content with just loving those around you and enjoying being in the moment . I hope our fans feel the message and or find a way to relate it to their own life and situation."
Late last year, The Wall Street Journal reported, "Strange Music's business is booming" and that Travis O'Guin, CEO of Strange Music, decided to expand the company's repertoire.  Says O'Guin, "When (Strange Music's in-house producer) Michael "Seven" Summers and I had the idea to venture into popular music, we reviewed multiple submissions. At first listen to the demo from ABOVE WAVES we knew immediately that it was THE ONE", says O'Guin, "We brought them in as soon as we could and it turned into our first band signing." 
O'Guin is building a touring and promotion infrastructure around the release of "Simple Things" and ABOVE WAVES' upcoming album. The band has performances at the Kansas City St. Patrick's Day Parade, the Uptown Theater in Kansas City on March 17 and the Chicago House of Blues on April 15.
# # #
ABOVE WAVES:
TWITTER / INSTAGRAM / YOUTUBE / FACEBOOK 
PRESS CONTACTS:
d.baron media relations, inc.
Diana Baron / Liz Ottiniano
diana@dbaronmedia.com  / liz@dbaronmedia.com
310-315-5444